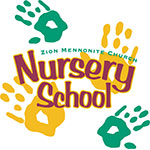 Organized more than 50 years ago, Zion Mennonite Nursery School holds the distinction of being the oldest Nursery School in our area with a program of kindergarten readiness for three-, four-, and five-year-olds. Our goal is to help your child develop their God-given potential and to allow them to grow to be kind, caring, creative, happy, responsible children.
The teaching staff at Zion Mennonite Nursery School have either 2-year or 4-year degrees in education. Each staff member is certified in CPR and First Aid.
The program has been designed with particular attention to the differences between each age group. Although some children enter Nursery School with classroom "experience" through Sunday School, Nursery School presents new surroundings and faces. Consequently, the challenge to "let go" continues to be one of personal growth.
A typical day at Nursery School is filled with lots of learning and fun. Regardless of the day's activity, Nursery School is designed to educate children in new and interesting ways, preparing them for the adventures and challenges of their next step in education. Through the enthusiasm of our experienced teaching staff, we find great joy in presenting Zion Mennonite Nursery School as a fun place to be and to learn more about sharing, helping, taking turns, listening and learning those things that are important for kindergarten readiness.
Our school year begins on the Monday after Labor Day and continues until Memorial Day.