"We are a singing people." The importance of music within the life of Zion was best summarized in this statement made by the Worship and Fine Arts Committee created to study the music needs of the congregation when the current facility was being planned. The rich history and love of music plays an integral part in each gathering of worship. An experienced and dedicated staff continues the tradition and heritage of music in worship.
Samantha Brannon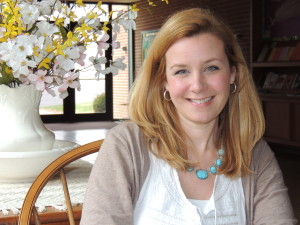 Samantha joined the staff of Zion in the fall of 2013.  She coordinates the music for the services as well as directing the Adult and Children's Choirs.  She also enjoys teaching her private vocal studio which she runs out of her home, as well as directing the music for Pennridge High School's Theatre program.  Samantha has her degree in Vocal performance from Ithaca College and has been teaching and performing for over 18 years. She lived in Richmond Virginia for eight years where she performed professionally and taught for Randolph Macon College in Ashland.    She now resides in Perkasie with her husband, Tad, and their 2 little boys, Cooper and Maxwell.
Choirs
Adult Choir
The adult choir is comprised of approximately 25 individuals. This group sings at the 9:00 a.m. service approximately three times per month during the months of September – June. The primary focus of their music is directed towards the classical composers of the church. The choir practices weekly on Wednesday evenings.
Youth Choir
Youth in grades 2 through 8 participate in this choir. Weekly practices are held immediately after the 9:00 a.m. worship service (from 10:00 to 10:15 a.m.). The choir usually sings once a month during the months of October through June.
Cherub
This is a time of gathering and singing for all children ages 3 to 1st grade. The children will meet in the music room (134) and sing traditional and praise children's songs. This program will start at 10:00 am immediately following the morning service and go until 10:15 am. This is just a fun time to lift their voices to the Lord. The children attending Children's Church will be escorted to singing & their appropriate Sunday school class. 
Bell Choir
Adults and youth enjoy the variety of playing bells and/or chimes for special programs throughout the year. The choir practices on Wednesday evenings.
Special Programs
All of Zion's choirs share their musical ministry with the community through special programs, church exchange events, and concerts. Zion continues to present exceptional musical programs to the community through its own choirs and talent along with guest singers and instrumentalists.
Organ
Charles Fisk Tracker Pipe Organ, Opus 51 "Our general idea in designing this organ was to produce something simple which would go well with the column it stands behind. Since the cross is centered in the room, we thought it would be best to have the organ face the cross, as if to direct the attention to the organ back to the center of the room."
—  Charles Fisk to Edward A. Sövik
The process of achieving perfect harmony of both building and organ design was central to both organ builder and architect. At the time the organ was contracted for, the church's building was still in the design stage. For the first time, Charles Fisk was able to work in collaboration with an architect, Edward A. Sövik. The spare but graceful design of the case and the favorable acoustical climate of the building were thus achieved by organ builder and architect in an atmosphere of mutual respect. A year after the organ was completed, Charles Fisk commented to a member of Sövik's firm: "We ourselves feel that it is one of our most successful instruments. A good part of the reason for the organ's tonal success is the building's acoustics, which for music are simply elegant. I was grateful to see that the organ, which might inadvertently have become a visual focal point, seemed not to obtrude upon the serenity of the place."
Charles Fisk Tracker Pipe Organ     Opus 51,1968
Great

Choir

Principal

8′

Bourdon

8′

Gemshorn

8′

Chimney Flute

4′

Octave

4′

Principal

2′

Night Horn

4′

Sesqualtera

II

Mixture

IV-V

Cymbal

II

Cremona

8′

Tremulant

Pedal

Subbass

16′

Flute

8′

Choralbass

4′

Bassoon

16′
Couplers: Great/Pedal, Choir/Pedal, choir/Great Manual Compass: 56 notes Pedal Compass: 32 notes Wind Pressure: 1 3/4″ Mechanical Action
Charles B. Fisk (1925-1983) was considered "the Picasso of organ builders." For more information about the Charles Fisk and the history of C. B. Fisk, Inc. check the website at www.cbfisk.com